Crop Health

Sustainability

Grain Visibility

Crop Production

Ag Technology
Our farming operation strives to implement conservation best practices through innovative cover crop integrations as well as external and internal agriculture technologies.  We pride ourselves in offering commercial on-farm grain production with full visibility and traceability for feed and distillation consumers.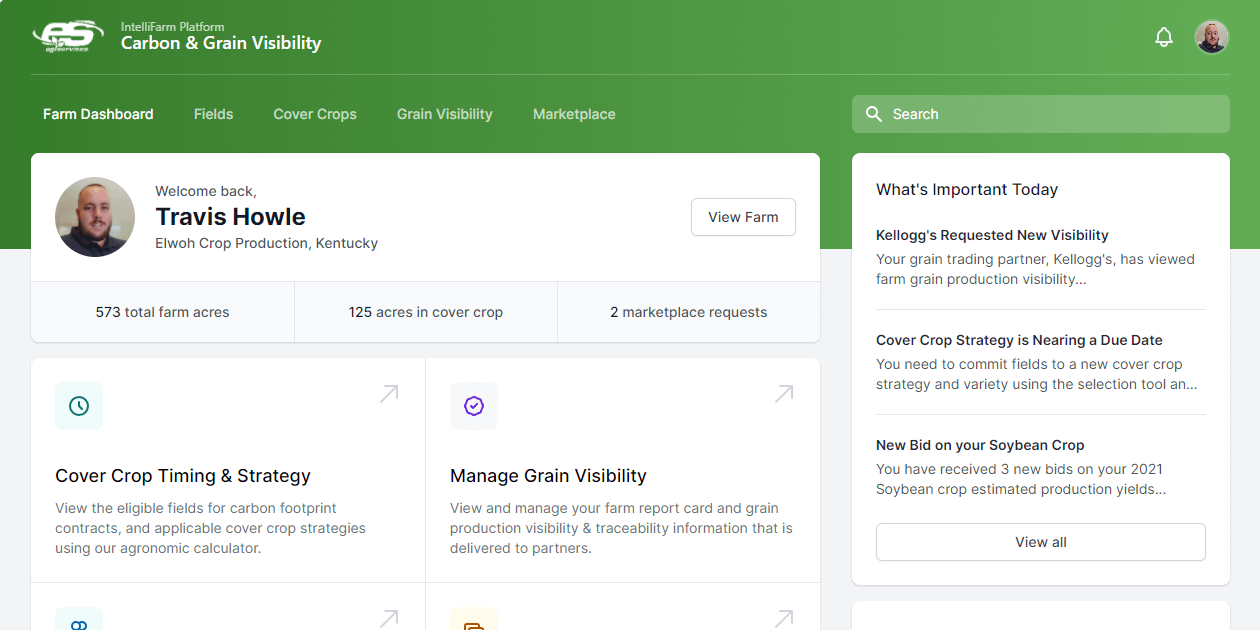 When our on-farm crop production objectives meet our digital product engineering mindset, a novel concept and platform is born. The new Elwoh Carbon Footprint and Grain Visibility Platform targets just this, and is targeting general availability release in 2022.
AG SERVICES AND CROP PRODUCTION
Providing Custom Crop Health Applications, Ag Services, and Crop Production in Western Kentucky.

Situated in far Western Kentucky, our farming operations and ag services are located in the heartland of agriculture.
Focusing on crop health applications with custom chemical applications during the growing season using the latest technology.
Leveraging technology to grow traditional soybeans, corn and wheat combined with cover-crops, and alfalfa stored forage.
When a technology & engineering company meets farming, an explosion of innovative agriculture technology is born.  Elwoh Solutions is pairing first-hand forage production experience with exciting technical development initiatives.
Elwoh Solutions is leveraging an extensive background in engineering leadership and digital product innovation to support farming operations by implementing and developing various digital and hybrid agri-tech focused platforms to enable responsible and sustainable crop production, focusing on maximizing crop health and environmental impacts.
Supporting
Sustainable
Agriculture
In addition to ag services such as crop health applications and technology innovations, Elwoh actively engages in crop production in Western Kentucky, producing corn, soybeans, and wheat with cover-crop rotations as well as alfalfa for a harvested stored forage.
If you would like to learn more about our ag services or crop production, inquire about leasing your farmland, don't hesitate to reach out — we'd love to hear from you.
Located on Gage Road in La Center, KY, USA
+1 (270) 908-4118