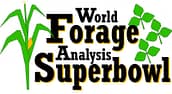 We are proud that our alfalfa hay represented rural Kentucky at the annual World Forage Analysis Superbowl during the World Dairy Expo. Our entry was amongst 336 other forage entries, and we excitedly note that our inaugural entry came from our first ever alfalfa production landing amongst the finalist with an overall placement of 12th in the commercial hay category.
If you've never heard of the World Forage Analysis Superbowl, it is a forage contest that is held annually in the fall at the World Dairy Expo in Wisconsin, where Dairyland Laboratories provides forage analysis of all entries and forage experts from the University of Wisconsin judge all entries to pick finalists and winners.

Forage Quality Results
The World Forage Analysis Superbowl is officially based on the results of Dairyland Laboratories — however, for comparison, we also sent a sample to Analab as well. There were a few nominal differences noted, however, for the most part, both were fairly consistent with the batch.
This is near perfect alfalfa. I've never seen an alfalfa NDF this low (indicating very low fiber) and protein and ADF very good. For that matter all the quality values are very good.

University of Kentucky Extension, Forage Agronomist
The final forage quality results of our entry are less than what we expected, but likely on par considering the growing conditions in our area and from our first-year test plot. Either way, we are happy to see 24% crude protein and an RFQ over 200!
| | Dairyland Results | Analab Results |
| --- | --- | --- |
| CP | 23.99 % | 24.53 % |
| ADF | 23.74 % | 22.28 % |
| NDF | 32.05 % | 25.70 % |
| Sugar | 8.87 % | 10.16 % |
| Lignin | 5.30 % | 5.30 % |
| RFQ | 192 | 216 |
| RFV | 204 | 259 |
In addition to the fairly great forage quality test results, the final product looked even better with many leaves, and very soft & fine stems.
Onward and Upward
With 2019 coming to a close — quite literally in a few hours, we're onward and upward. As we continue to grow and adapt our management strategy to grow premium quality alfalfa hay in Kentucky, we will continue to improve. Here's to a quality-filled 2020!