As we continue engineering and development efforts on the Kentucky Alfalfa management project with our joint collaboration between the University of Kentucky, we're nearing some project milestones and continuously adding innovative ways to improve your forage and farm management to the backlog.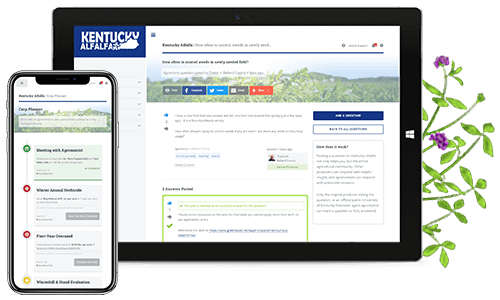 To learn more about the collaboration, progress, and the future of the project, Dr. Ray Smith, Extension Professor with the University of Kentucky will be presenting at the Alfalfa & Stored Forages Conference.
The 2020 Alfalfa & Stored Forages Conference by the University of Kentucky will be held on February 20th in Elizabethtown, KY. View more information, or register for the conference on the UK Extension Forages website or on Eventbrite.
The Kentucky Alfalfa Platform is a joint project between Elwoh Solutions Ag and the University of Kentucky Extension to provide Kentucky forage producers a comprehensive toolset to properly manage their operation, while focusing on proper and timely agronomy decisions to support healthy forage plants, and sustainable agriculture practices.
Obtain Accurate and Speedy Agronomy Assistance.

Communicate with other producers, agronomists, and forage specialists to get answers to your questions such as plant health, pest control, and much more.

Manage Fields, Yields, and Applications.

Add your fields and manage everything from seeding, pest control, and harvest.

Engage Ag Weather for Timely Pest Control and Harvests.

Rely on accurate weather data and forecasts for pest emergence and harvest timing.
Connected Data Ownership
All of the data on the platform that is input or provided by a Kentucky producer belongs to that producer and will stay secure on the platform.
You own your farming data.
We will not use nor share your data without your consent.
The platform is integrated with John Deere Operations Center to allow ease of field and task management.
Agronomy Assistance
View a vast and growing knowledge base of season relevant topics to ensure a successful crop lifecycle.
Ask Agronomy Questions

Get real-world advice and assistance from extension agents and other producers.

Search Community Questions

With many agronomists and producers contributing, it's likely your question already has an answer. Find that answer easily with a quick search or get lost in topics you might not have already considered.

Quick Access to Agronomists

Post pictures and questions to extension agents and forage specialists.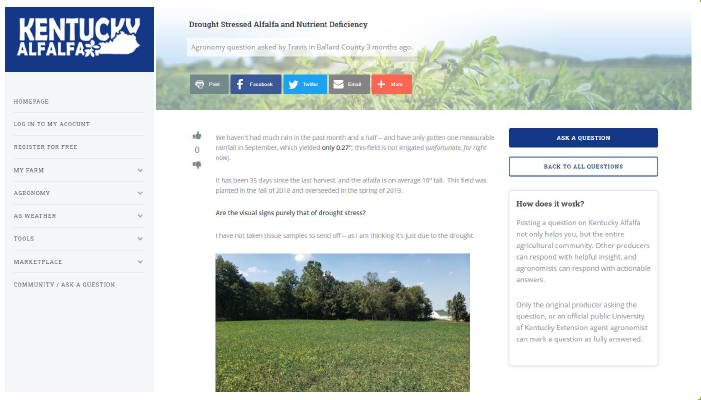 Answers from the community are graded on a rating system to ensure relevant responses are given priority.
Community Sourced Answers

Using simple vote up and vote down actions, answers can move based on their accuracy and relevancy.

Agronomist Answers

UK Extension agents have the power to set an answer as the official & accepted answer
---
Custom Crop Planner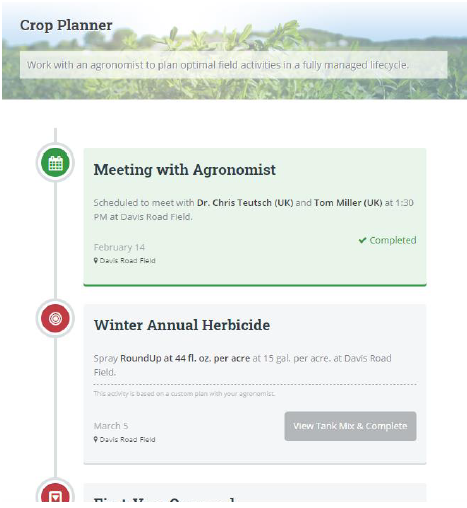 Work with your UK Extension agent, another agronomist, or solo to create or adopt a crop plan that adapts to the changing weather and events noticed by other producers.
Dynamic Pest Emergence

Get tasks and alerts to check fields for potential pests based on activity levels in the state, and weather predictors such as GDD.

Timely Plant Health Applications

Reminders and tasks for fertilizer and plant health chemical applications based on yields.

Schedule Meetings with Extension Agents

Get help when it's convenient for you. With a few simple clicks, you can have professional guidance at your farm at the day and time of your choosing.
---

The Kentucky Alfalfa platform is powered by Elwoh Solutions Ag and the University of Kentucky.