It was just like any other early-April day at the start of the alfalfa season, as we walked the fields and admired all of the tender green alfalfa regrowth.  We were passing the 200 growing degree days mark, so we knew to be looking for the presence of alfalfa weevil feeding — and sure enough, we saw some activity accompanied by minor damage.
As usual, we now planned to incorporate a labeled insecticide in our tank mix as we applied herbicide to knock down some weeds and a fungicide.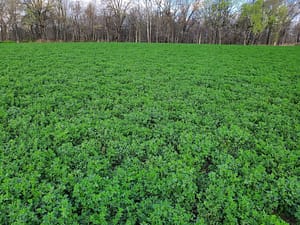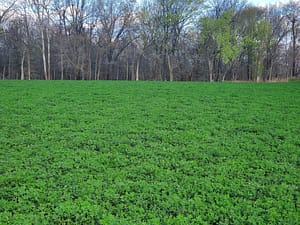 Spraying to
Kill
Alfalfa Weevils
Shortly after a standard full-rate application in a 15 GPA solution, we returned to the fields to continue scouting; we noticed the opposite of what was expected — increased alfalfa weevil activity and catastrophic destruction of some plants in the form of obvious skeletonization.
In the past, when we had noticed activity of the alfalfa weevil, we would realize adequate control with one application of an IRAC 3A MOA pyrethroid or a dual-MOA 3A & 28 diamide.
This year was our first to apply a different 3A MOA active ingredient, being cyfluthrin, instead of zeta-cypermethrin or lambda-cyhalothrin in the dual-MOA.
We did not fully understand why our labeled application failed to render the desired effect on what is ordinarily an easy pest to control. We decided to immediately make another application with a labeled dual-MOA insecticide, which was still allowed under field per-cutting and per-season maximums.
This time our application would utilize a dual-MOA product with a pyrethroid and a larger ratio of an IRAC 28 MOA diamide ingredient of chlorantraniliprole.
Once again, we expected quick knockdown and control of the alfalfa weevil; however, instead of control, this was met again with a significant expansion of damages to the otherwise healthy alfalfa fields.
What could it be?  Are the chemicals not working because of the dreaded "R" word?  Is there something in our spray equipment that's antagonizing or deactivating the active ingredients?
What could it be?  Are the chemicals not working because of the dreaded "R" word?  Is there something in our spray equipment that's antagonizing or deactivating the active ingredients?  Is it a lack of coverage?
All of these questions and thoughts continue running through your head as you watch what was a near-perfect looking and healthy stand of alfalfa nearing its harvest, becoming a total warzone!
We're relatively confident that any of the possibilities around deactivation of the active ingredient due to antagonization or degradation in the spray equipment is out of the equation, as we take post-application cleaning and decontamination of the entire solution system (fill, tank, booms, strainers, meters, nozzles, end-caps, etc.) very seriously with above-and-beyond flushing and cleaning with high-alkaline detergents.
We are also confident that coverage isn't the issue, as we utilized proper nozzle selection procedures and spray pressures to ensure adequate droplet sizes, as well as total solution volume per the label; we also saw great success with our tank-mixed herbicide application by affecting adequate control of below-canopy weeds.
After reaching out to some additional contacts in forage agronomy and entomology, as well as field visits by a respected lead technical field agronomist with one of the chemical's manufacturer, the consensus landed on equal parts confusion around why the applications didn't control and concern over the next steps.
We finally settled on two options, one of which would be the application of an organophosphate, which we really wanted to avoid.  The other option would leverage the application of a much less frequently used, but labeled IRAC 1A MOA carbamate insecticide of carbaryl.
After deciding to move forward with the carbamate product, we geared up for the final stand against the alfalfa weevils!  Applying at a total solution rate of 25 GPA, we once again realized great coverage and a complete full-label application of the product per the label.
Returning to scout the fields at about seven days post-application, we noticed a significant mortality rate and very limited viable alfalfa weevils — it seems to have gotten us to a victory!
One
Week Post-Application
Two
Weeks Post-Application
With this specific application, we did notice some damage and bleaching on some of the leaves (which is also referenced in the label).
As the rainy spring weather took hold, two weeks post-application is showing vigorous regrowth of healthy plants, which is reassuring, as we felt sure the major damage and stress caused by the alfalfa weevils immediately after breaking dormancy would have lead to plant mortality.
We're still not certain on what caused the failed control by multiple applications of various MOA's and active ingredients; further discussions with forage agronomists do give way to some information that points to higher pressures from alfalfa weevils during this year with multiple staggered hatchings.