We're always in a battle to interpret data and make the right decisions to push both yields and forage quality. Often this battle isn't an easy one, nor does it always have a single correct response.
However, the one thing that will stand the test of time for sustainable agriculture practices, other than obtaining the data in the first place by soil sampling, will be to focus on soil pH to maximize nutrient and mineral availability to growing plants.
We are lucky in that our efforts are primarily focused on growing a forage crop that sees multiple harvests in many growing seasons. This gives us the ability to monitor and adjust our fertility plans various times throughout the harvest lifespan for a single crop — however, the soil pH needs to be close to perfect at the beginning.
Why Focus on Soil pH
Well, back to our battle of yield and quality — want more yield? Throw on more fertilizer. 👍 Want better quality? Throw on more fertilizer. 👍 Sure — sounds good in theory, and it also looks really expensive and careless, right? We can blindly throw all sorts of fertilizer onto a field and see some kind of response (both good and bad), or we can take the time to interpret the data from our soil test and determine exactly what we need.
A soil pH of 6.0 equates to wasting nearly 20% of the fertilizer applied, and at a pH of 5.0, more than 50% of fertilizer is wasted.
Soil pH comes to the battle with a major role in fertility. It can almost single-handedly drive nutrient-based plant health and quality by dictating availability and uptake from the soil. According to the University of Kentucky, more than 50% of applied fertilizer is wasted when the soil pH is at or below 5.0.
Nutrient Availability by Soil pH
All of this will make more sense by looking at the nutrient availability ranges. As the soil acidity decreases, and the soil pH nears 7.0, more of the vital nutrients are "unlocked" and become available for the growing plant to consume, while also decreasing the potential for harmful elements such as aluminum to hinder plant growth or further displace nutrient cations — and that is the goal.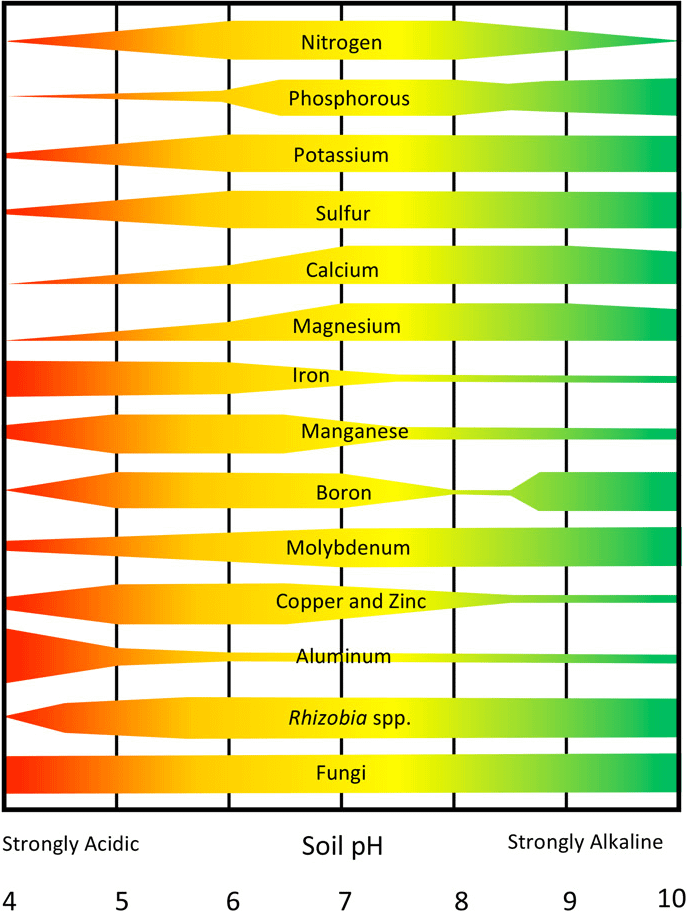 When we reach a soil pH of about 7.0, the vast majority of our nutrients are readily available to the plant. As soil pH decreases or even increases, our band of nutrient availability begins to shift to less than optimal.
Aside from the obvious importance for nutrient availability, proper soil pH is even more important in our case of growing alfalfa, which is a legume, because of the influence soil acidity will have on overall soil microbial activity — including rhizobia which is essential to nodulation and atmospheric nitrogen fixation.
How to Decrease Soil Acidity
Decreasing the soil acidity, or raising the soil pH to a target of between 6.8 and 7.0 will require the use of a liming source, ideally, one that is of the highest quality (often represented as CCE or Calcium Carbonate Eqivilance) and smallest particle size (both factors considered in a RNV or Relative Neutralizing Value) that we can obtain.
It takes about 50 lbs of calcium carbonate to neutralize 1 lb of soil acidity (and no, using a "liquid lime" replacement instead of spreading dry ag lime will not be a magical cure-all to increasing or maintaining proper soil pH — so don't waste your time or money; we've looked down that road).
It's not an instant fix, either — it can take 2 or 3 years for the ag lime to fully react (especially dependent on the fineness of the lime particles) and get the soil pH to where it needs to be. Most studies show that particles smaller than 60-mesh will fully dissolve and react within one-year, and often within a couple of months given the right conditions.
Kentucky also has a law that governs what can be considered "ag lime." As the worst possible scenario, the lime must meet the following criteria;
Must have a CCE of at least 80% (quality compared to pure calcium carbonate),
At least 90% of the lime must pass a 10-mesh screen,
At least 35% of the lime must pass a 50-mesh screen.
Our Field Applications
Unfortunately, most of the fields we have put into production needed significant pH adjustment from 5.x to 7.0, with soil CECs near 15. We have yet to actually apply lime to a field a year or more ahead of our target seeding date — even though that is the recommendation; however, this hasn't had a major impact on new stand establishment that we have seen (fingers crossed that it stays that way).