That's right; we have horrible quality alfalfa hay filled with nasty smelling and looking matted flakes! How did we get here, and how do we move forward?  There are so many questions that still remain unanswered, but it is important to point out what we know and what we do to produce the highest-quality alfalfa hay possible.
The road of imperfect production.
It's challenging. Don't be fooled by all of the high-tech equipment and gadgets; it is always a battle to successfully grow and produce high-quality alfalfa hay.  We can apply all of the right products to ensure proper fertility, as well as timely applications of crop protection products to produce a beautiful-looking crop of alfalfa.  We can even (sometimes) sweet-talk the weather forecasters into a nice rain-free sunny stretch of days to cut, cure, bale, and store the alfalfa.
Sometimes doing what seems like exactly the right thing might turn out to be the wrong thing.  And sometimes, finding out that it was the wrong thing only happens after you've opened up the bales and start looking at matted flakes of hay.
This past alfalfa production year proved to detour onto the road of imperfect production a few times.  Out of all the alfalfa hay that we sold that year, we had three occurrences of customers coming back and letting us know about some bales of hay that had quality issues in their orders.
Hold up… now, granted… two of these pictures are from bales that got left outside overnight when it rained, but it still shows how fast quality can be degraded.
Welcome to the part of alfalfa production that will keep you up at night.  The looming question of "why did it happen?"  Which also happens to be a pretty difficult one to answer in some scenarios.
The cases from last year were all of the same nature, being that some flakes or bales had a musty smell, had visible matting and mold, or had leaves crunch to dust and fall.  To further add to the sleeplessness, our other buyers that received hay from the exact cutting, lot, and field reported having near-perfect hay through and through.
There are so many different variables that can attribute to the quality (or lack thereof, in this case) of the stored alfalfa hay.  Some of which can occur in the field, others at the time of our internal storage, and some that can occur either in transport or at the customer's storage (as you can imagine, that opens another can of worms).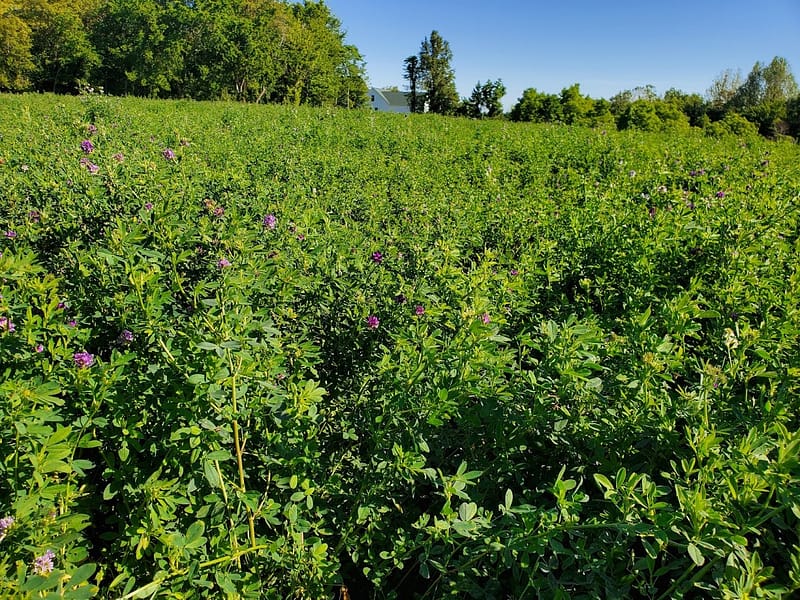 Fertility and Protection
Our first step is always to ensure proper fertility to support healthy alfalfa plant production.  You can't expect to harvest nutritional forages without healthy plants.  Secondary to this is ensuring proper crop protection during the pre-harvest growing cycle; this includes timely applications of any herbicides to combat weed pressure, fungicides for diseases, and insecticides for insect pressure.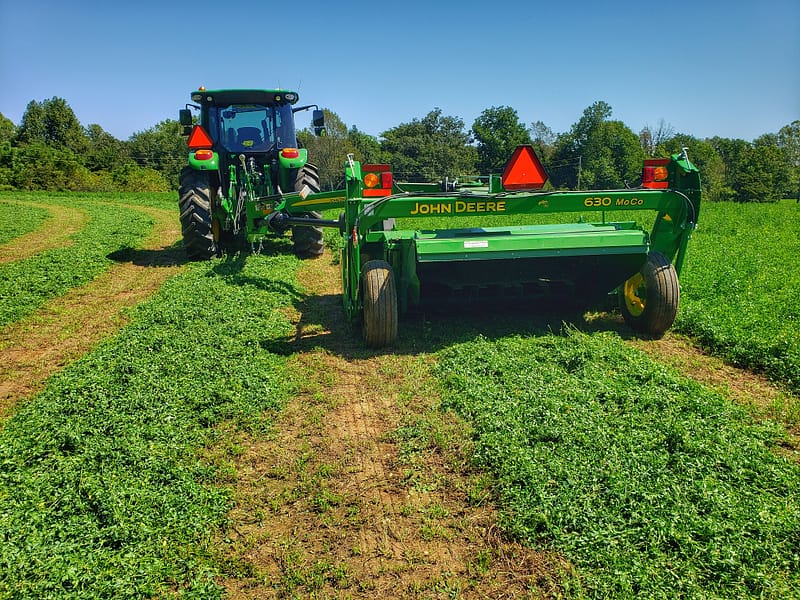 Timely Cutting & Conditioning
Our second step is to leverage the power of a crimping mower-conditioner to cut the alfalfa at just the right stage.  The crimping rollers in the conditioner work to improve rapid dry down and curing of the stems.  Focusing on the alfalfa lifecycle is essential to ensure you start the harvest process when characteristics to produce nutritional forages are optimal.
Sun Drying & Curing
The third step really harnesses the power of the sun.  As the alfalfa lays in the wide swath produced by the mower-conditioner, the sun and wind continue the drying process for about a day or two.
Windrow Raking
The fourth step is to use a rotary rake to gently lift, turn, and fluff the dried alfalfa into a nice and thick windrow to continue the drying process and prepare for baling.  This is a tricky step as if it is too dry, you will shatter leaves.
Baling & Bundling
The fifth step is when everything starts to come together and is perhaps one of the most tricky parts — baling the alfalfa into square bales and gathering with a bundler.  If you harvest too early, moisture will be too high; too late, and you're so dry you lose nutrition-packed leaves.  If you go too fast, you make inconsistent bales.  Even with high-tech equipment to monitor bales and moisture, the challenge is real.
Storage
The final step is to store the alfalfa until it's delivered to the customer.  We've tried many different storage methods but have settled on storing within an enclosed shed on pallets with limited surface area and adequate airflow for the continued curing process.
The monitoring of moisture and temperature is important in some situations.
With anything, there's usually more honest people with integrity than there are bad actors out to abuse the process, and whilst our terms and conditions are structured in a manner to ideally limit exposure to the bad actors, we are very willing to do what we can, within reason, to ensure the customer is taken care of.
We highly encourage any large-quantity buyers to make a farm visit to see the process as well as view the hay for themselves to give their "stamp of approval" before placing an order.
On a case-by-case basis, we may extend an offer to exchange the hay (another hopefully obvious one to point on, but no, you cannot just have free hay) or offer a discount on your next order.  We do take quality seriously, so if hay falls below expectations, we would like to examine it as well as send it off to the laboratory.
Hey, fun fact...
There isn't any crop production or quality-guarantee insurance for hay production. That means that the burden of being able to grow alfalfa (hail damage? flooding? drought?) in the first place, plus harvesting and packaging high-quality bales is entirely on the producer; including any exchange, replacement, or credit for hay.
As we learn more about what dynamic attributes impact quality, we're making big infrastructure, equipment, and process changes to increase the likelihood and frequency of producing high-quality hay.  Yes, we said frequency… nobody will ever be able to guarantee every bale they ever produce will be perfect high-quality hay. Still, we believe we can work towards bridging the gap and getting better about producing quality alfalfa hay in Kentucky more often.
Obviously, we've shifted the light to focus on the bad-quality alfalfa hay, but that realistically (and thankfully) only accounts for a tiny portion of what is produced.  The vast majority of our hay is considered high-quality, packed full of nutritious leaves, fine stems, and ready to serve its job of meeting your animal's nutritional needs.
Mmmm!
That's the good stuff!
Uhm, why are you posting this?
That's a great question.  If you've spent any amount of time here at all, you'll know that we're big on transparency.  We feel that it's important to show the less glamourous side of the operation and let you know exactly what to expect when you buy or partner with us.
It is important to see and understand what all goes into trying to produce high-quality hay and to recognize that it can all be for nothing at the very last minute — which, as you can imagine, is fairly 💔 heartbreaking.
Let's work together!
Want to grow with us as we focus on improving the process and frequency of producing high-quality alfalfa hay?