At Elwoh Solutions, we've recently been asked what the #kyproud hashtag, logo, and wordmark indicates on our products and social postings. The short answer is that Kentucky Proud is an initiative and program by the Kentucky Department of Agriculture; however, the full answer really isn't that simple.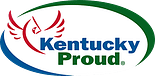 Being Kentucky Proud means more than just showcasing a fancy logo or tagline. It embodies a core component of our operation, philosophy, and mission as a company.
A Proud Rural Beginning
While we perform services and produce products that are realized and used all over the world, our principal operation is based in the rural countryside of Ballard County, Kentucky — a county of only roughly 8,000 hardworking Kentuckians with deep roots in farming and agriculture.
Even far before the formal agriculture aspects of our company began, the roots of family farming, innovation, technology, and growth began in rural Kentucky — starting with family row-crop farming which sparked the love for agriculture & equipment.
Over time this evolved into engaging in and offering diverse technology-oriented services, but eventually landing back where it all started, with the formation of the agriculture division — but with a unique twist, where technology meets farming.
Proudly Promoting Growth
Our pride arises from the goals of promoting technology and sustainable agriculture, producing quality forage products, and fostering an appreciation of our local communities, all with diversity and long-term growth in mind.
We are proud that our upbringing started in this rural community, where everyone knows their neighbor and lends a helping hand, or meets for breakfast at the small corner store on Saturday. We are excited to grow over time and be able to give back and support the additional growth of others in Kentucky, and in our small town.
At the end of the day, we're a small fish in a large ocean, but we are Elwoh Solutions, and we are Kentucky Proud!